Pharmacy Cross LED Display
Product Detail
Product Tags
Pharmacy Cross LED Display has green color, full color, Animated multi-color.
Pharmacy green cross is the perfect solution for those who want to make their pharmacy visible from a long distance with an updated style and a limited investment.
Our brand new programmable double sided cross is the perfect solution for any pharmacy.
In particular, this sign, due to its big size, make your pharmacy visible from a long distance with a limited investment.
This fully programmable double-sided cross, like other similar models manufactured by us, allows a few animations, preset effects and can display texts.
This pharmacy cross typically uses green LEDs, but it's also possible to use it with LEDs in other colors according to your needs.
The external structure is powder coated in black but can be made in any other color upon request. Control electronics are included.
If, on the other hand, you are looking for a pharmacy cross that can show high resolution writings and videos, please see the new full color LED cross line that has also recently undergone a complete aesthetic and functional redesign.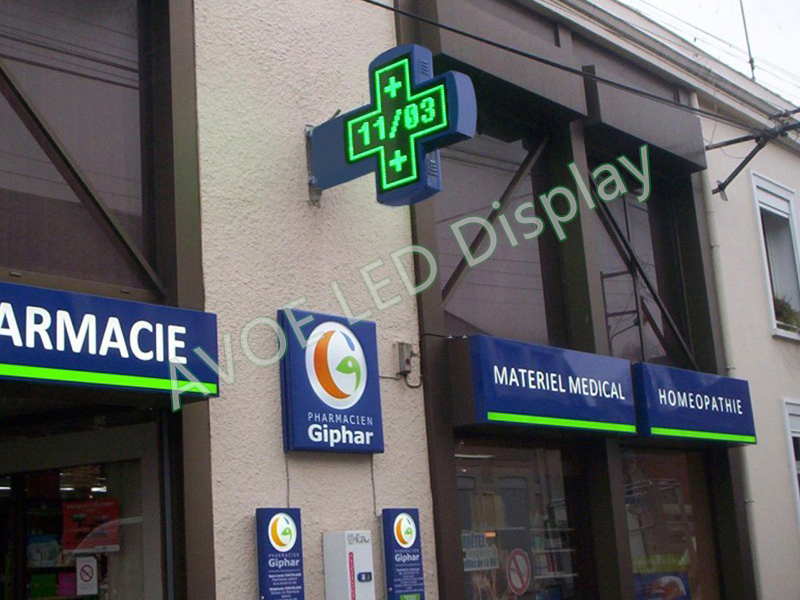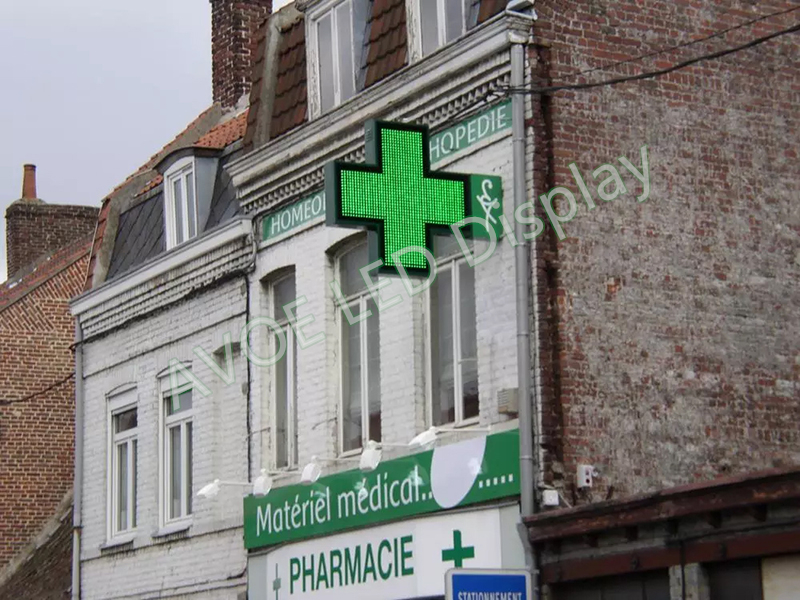 Full Color HD LED Crosses for Pharmacies: Our new line of double-sided crosses of high resolution with 4,4 billion colors is the ideal choice for those who want to differentiate themselves from the competition and get the maximum attention from the customers, by displaying offers, services and promotions. The pharmacy crosses models of the Full Color line are the latest products thanks to more than 15 years of experience in the Pharmacy signage industry.
The HD screen can play colorful images, videos and writings, not to mention other automatic functions such as date, time and temperature.
Our proprietary software freely provided with a Pharmacy cross, allows you to program and automate all your communications by using any PC.
For the most demanding Pharmacies we have designed the monochrome models equipped with our revolutionary super-thin cabinet.
Animated multi-color pharmacy crosses: Our new line of colored animated crosses, double-sided and pre-programmed, is the ideal solution for those who want to modernize their pharmacy with a limited investment. The new design gives it a modern look. They reproduce any shade of color and can be painted with any color.
---
Previous:
P1.875 Shelf LED Display
Next:
Gas Price LED Sign
---
Write your message here and send it to us