GOB LED Display
Product Detail
Product Tags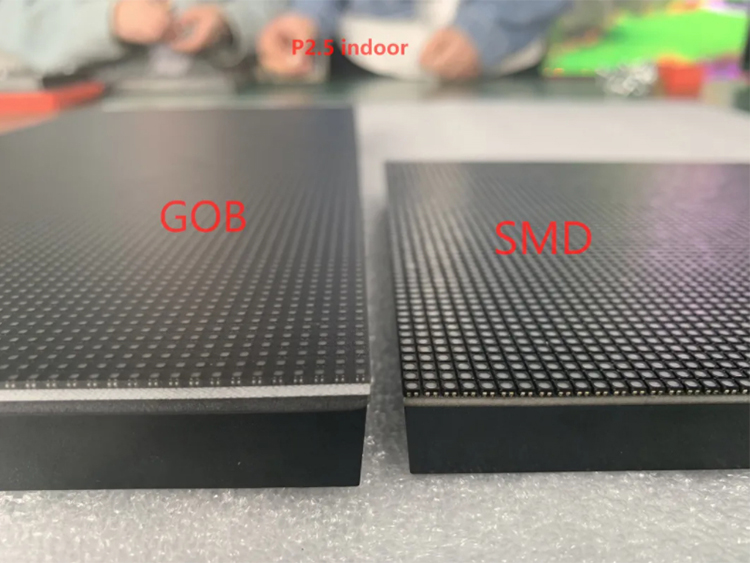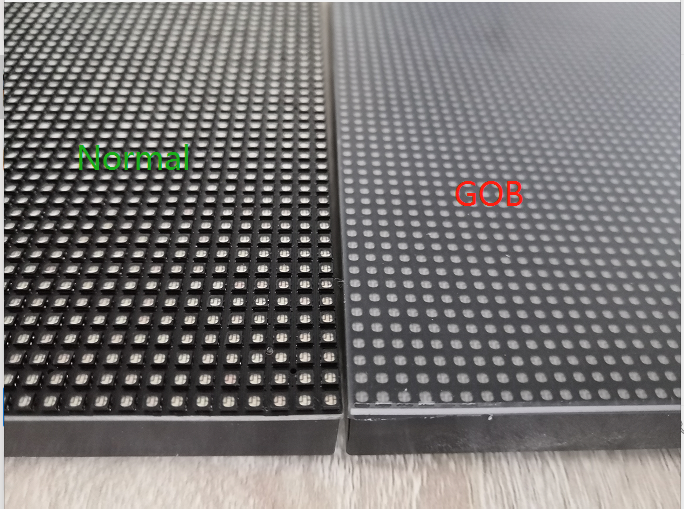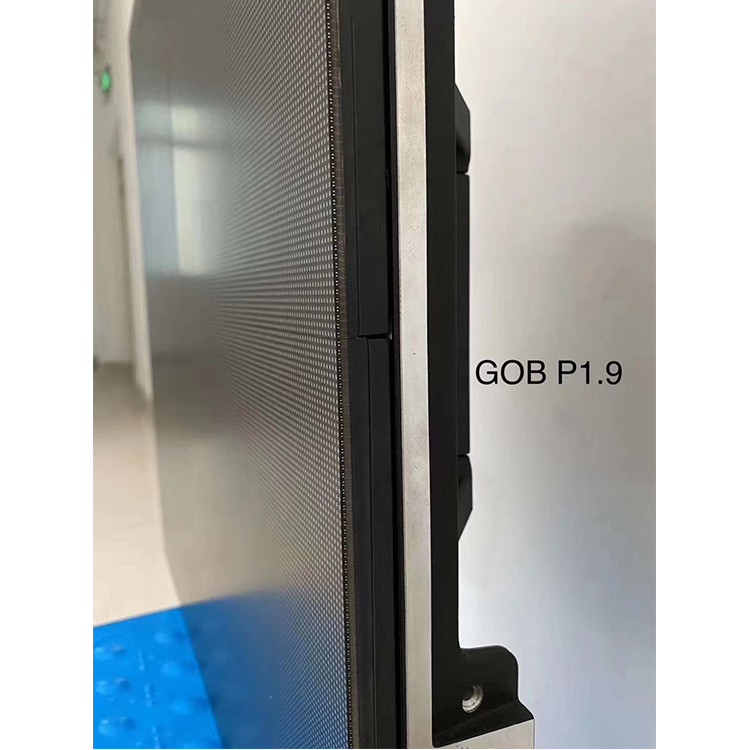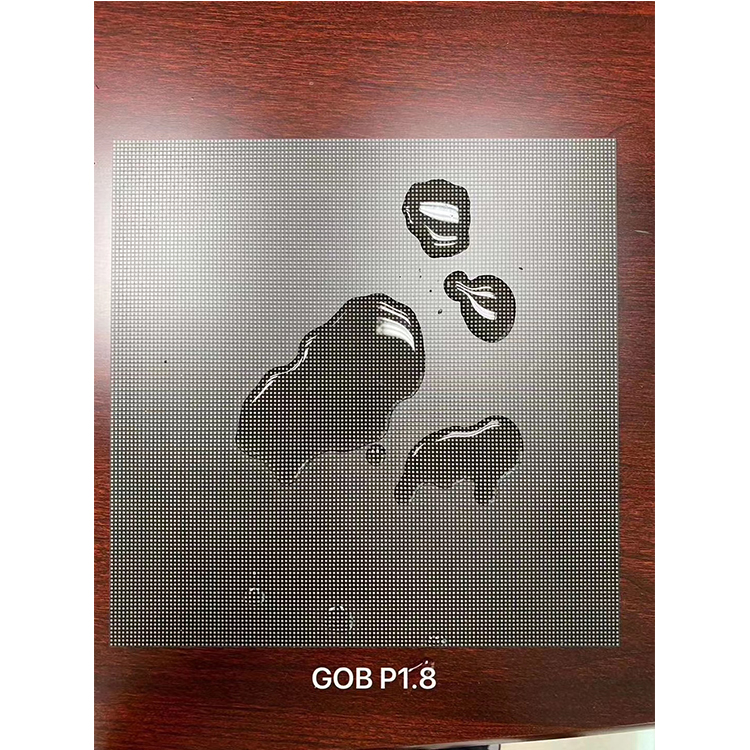 1. Classical design and natural tech, reliable quality and great performance.
2. Seamless connecting tech., screen flatness error <0.1mm.
3. Patented mask, eliminating the dark spots, improving consistency and viewing angle.
4. High contrast, ideal gray scale, presenting the most real pictures.
5. Supporting brightness and color correcting of the whole screen.
6. Ideal load of power and parameter setting, make screen under the best working condition, moreover, furthest slow down brightness and color reduction.
Used for KTV, bar, stage background video wall, commercial advertising display in Retail chain store, Brand shop, Clothing Stores, metro station, airport, hotel, bank, supermarket, pharmacies, duty free zones. 
GOB indoor SMD P2

 

Lamp size

SMD1515/2121

Resolution/mm

2

Pixel configuration

RGB SMD3 in 1

Pixel density/pixels/SQM

250000/㎡

Module resolution

128x64

Module size/mm

256x128

View distance

≥1m

Single point brightness adjust

Can be added

Single point color adjust

Can be added

White balance brightness

>800cd/㎡

Color temperature

6500K-9500K

Horizontal view angle

160(degrees)

Vertical view angle

160(degrees)

Signal Process bit

10 or 14 bit

Grey process

1024x1024x1024 16834x16834x16834 65536x65536x65536

Control distances

Internet cable:100m, multimode fiber: 500m, monomode fiber: 5km

Driving mode

Constant driving current

Scanning mode

1/32

Frame rate

50-60Hz

Refresh frequency

>3840Hz

Control mode

Computer synchronous

Brightness adjusted range

Manual, automatic operation, step-less continuous adjusted

255 steps. No grey loss

Out of control point

<1/10000

Working hours

≥72hours

Mean Time Between Failure

>5000hours

Life time

100000hours

Life-all-white(brightness halving)

50000hours

Environment temperature range

Operating temperature range: -20-45℃ Storing temperature range: -30-65℃

Maximum power / ㎡

<800W

Average power / ㎡

<280W

Self-check technology

LED spot self-check, communications check, power check,

temperature monitor(need customization)

Remote monitoring

Remote supervision and control, record potential fault,

send out warning signs to the operators.(need customization)

Software environment

Windows series, Windows XP

Luminous point width between centers

Deviation<3%

Brightness uniformity

<10%

Color uniformity(chromatically coordinate)

±0.003

Power supply request

AC85-264V(50Hz-60Hz)

Contrast

(1000:1)

System protection

Moisture-proof, dust-proof, high temperature protection,anti-corrosion,anti-burning,anti-static,anti-vibration

Humidity(working)

working:10-95%

Humidity(storing)

storing:10-95%
| | | | | | | |
| --- | --- | --- | --- | --- | --- | --- |
| Pitch(mm) | 1.25mm | 1.53mm | 1.66mm | 1.86mm | 2mm | 2.5mm |
| LED Type | SMD1010 | SMD1010 | SMD1212 | SMD1515 | SMD1515 | SMD2121 |
| Color | 1R1G1B | 1R1G1B | 1R1G1B | 1R1G1B | 1R1G1B | 1R1G1B |
| Module size | 320*160 mm | 320*160 mm | 320*160 mm | 320* 160 mm | 320*160 mm | 320*160 mm |
| Resolution | 256*128 Dots | 208*104 Dots | 192*96 Dots | 172*86 Dots | 160*80 Dots | 128*64 Dots |
| Density | 640000pixel/㎡ | 426800pixel/㎡ | 360000pixel/㎡ | 288700pixel/㎡ | 250000pixel/㎡ | 160000pixel/㎡ |
| Refresh rate | > 3840Hz | > 3840Hz | > 3840Hz | > 3840Hz | > 3840Hz | > 3840Hz |
| Brightness | > 500 cd/㎡ | N 500 cd/㎡ | > 600 cd/㎡ | > 600 cd/㎡ | > 800 cd/㎡ | > 800 cd/㎡ |
| Frame rate | 50HZ-60HZ | 50HZ-60HZ | 50HZ-60HZ | 50HZ-60HZ | 50HZ-60HZ | 50HZ-60HZ |
| View angle | H:160 , V:160 | H:160 ,V:160 | H:160 , V:160 | H:160 ,V:160 | H:160 ,V:160 | H:160 ,V:160 |
| Cabinet size | 640*480*60mm | 640*480*60mm | 640*480*60mm | 640*480*60mm | 640*480*60mm | 640*480*60mm |
| Resolution | 512*384 Dots | 416*312 Dots | 384*288 Dots | 344*258 Dots | 320*240 Dots | 256*192 Dots |
| Materials | Aluminum | Aluminum | Aluminum | Aluminum | Aluminum | Aluminum |
| Weight | 7.5Kg | 7.5Kg | 7.5Kg | 7.5Kg | 7.5Kg | 7.5Kg |
| IP Level | IP54 | IP54 | IP54 | IP54 | IP54 | IP54 |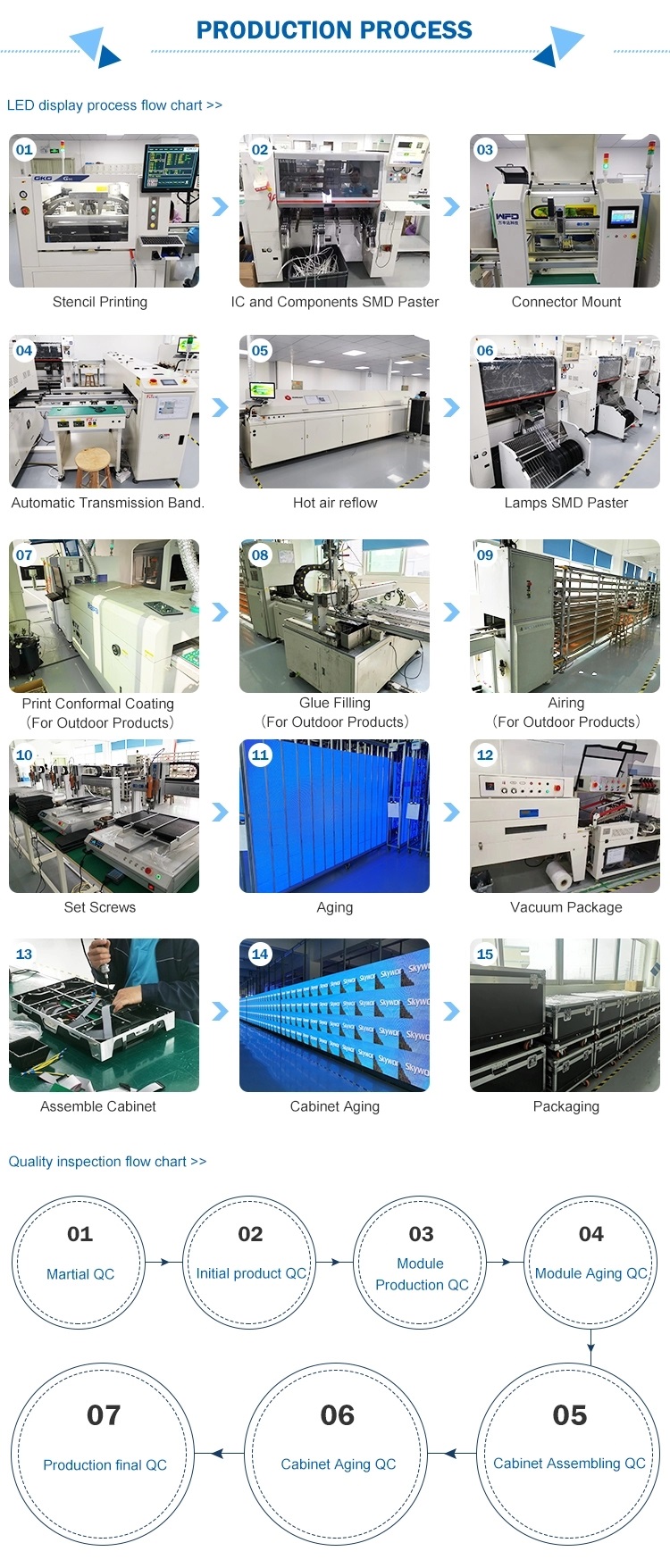 ---
Previous:
LED Video Processor LVP909 Series
---
Write your message here and send it to us